Early Access Dev Twitch Times
RazielWarmonic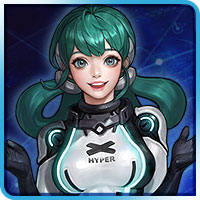 Hyper Universe Rep: 2,300
Posts: 166
Member
Hello everyone!
I will be streaming Hyper Universe from the
official PlayHyper Twitch
account 4 days a week during Early Access! Occasionally I will bring on another member of the Hyper Universe team to play with us and answer questions.

Dates and Times:
Monday - No stream
Tuesday & Thursday - 10:00 AM PST / 1:00 PM EST / 3:00 PM BST
Wednesday & Friday - 4:00 PM PST / 7:00 PM EST / 9:00 PM BST
Saturday & Sunday - No stream
I look forward to seeing everyone in stream!!
vv FOLLOW US ON TWITCH vv
https://www.twitch.tv/playhyper