RazielWarmonic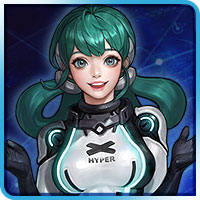 Hyper Universe Rep: 2,300
Posts: 166
Member
Gutentag Hypers!
We recently did an AMA on Discord and will be posting the questions and answers in this thread. There were lots of great questions, so if you're looking for a specific one, you may just want to ctrl+f what you are looking for.
As a quick introduction, Ccomang - the producer on Hyper Universe at Nexon - answered the majority of questions.
QUESTION:
"When will you guys go open beta?" - darkbob
ANSWER:
"We will not be going into Open Beta. We are heading straight into official launch.
And if you want to know when that is..................
....................that is mid January next year." - Ccomang
QUESTION:
"When are we getting more skins?" - Fantasy
ANSWER:
"This week!! Yuna's model student skin is coming with the attendance event." - Ccomang
QUESTION:
"Recent feedback for certain Hypers suggests community upset about certain Hypers, is there a plan to adjust those Hypers in the future based on feedback or is it going to be based on win ratios again?" - Jolernutterbutter
ANSWER:
"We are constantly looking at data and player feedback. However, since we are not the developers here, we present our findings to the devs and make suggestions. So if you'd like to see changes or feel balance is off, please be sure to leave feedback on the official forums, Discord, wherever you see us.
But forums is probably the easiest for us to review." - Ccomang
QUESTION:
"Will you be investing in big name influencers to signal boost the game come F2P release?" - Cool
ANSWER:
"We will definitely work with influencers but we are not about just big names, more those who genuinely like the game and their enjoyment with the game shines through." - Ccomang
QUESTION:
"Will we get the succubus hyper? How come we can't get all the other hyper at once?" - darkbob
ANSWER:
"Who??
Just kidding.
Daraeus made me do it.
But of course Camilla is coming in all her succubus glory.
We are not releasing all hypers at the same time because we want to get feedback and data on each hyper drop." - Ccomang
QUESTION:
"Can we have a teaser for the next hyper/s that will get released? or anything of the sort? Like a schedule?" - Miyuki Shadowclaw
ANSWER:
"There will be a new hyper in 11/16 patch.
You have seen this hyper before.
For the 11/30 hyper drop,
I cannot tease it because I dont know what it is yet. And this is because...............
........you guys told us you want to pick the hyper. So we are going to have a vote.
Sorry to disappoint but your favorite succubus is not on the ticket." - Ccomang
QUESTION:
"What or who is stopping you guys from being more transparent with us and why?" - SnOw
ANSWER:
"Uhmmmmm......probably me? I tell my guys not to disrobe in front of streaming camera ALL THE TIME" - Ccomang
QUESTION:
"Are there plans to catch up to Korea content wise in the short/mid term and keep the versions synched after that?" - Achiel
ANSWER:
"We don't really plan around catching up to Korea content, we really just want to provide a service that fits our players. For example, the Halloween events were designed for us so Korea technically caught up to us in that regard. That is not to say we are not going to catch up, just that that's not how we plan." - Ccomang
QUESTION:
"Will we see the beta changes that Delta Station is apparently going through in Korea?" - Achiel
ANSWER:
"Indeedy do. Si. Yes. For sho." - Ccomang
QUESTION:
"Goth Aisha skin is given away as PC Cafe playtime reward in Korea, are there considerations of having it being a play time reward in the west as well?"
ANSWER:
"We are going to use Aisha skin but on a completely different way., As for the play time PC Cafe event Korea has, we cannot use it as is, but we are working on the proposal to send to the devs to do play time event." - Ccomang
QUESTION:
"Are you worried about the actual number of founders?" - Robyn
ANSWER:
"Not really, no. Early Access was a bit of a risk and we were prepared for several different scenarios on how this could play out. It would have been nice to have more Founders, of course, but I'm enjoying the intimate community we have right now." - Ccomang
QUESTION:
"Nexon America is (in)famous for shutting down games that don't perform, making people wary of spending time and money in their games if they are not already successful, thus becoming a self fulfilling prophecy, is there anything you could say to people with those reservations that Hyper Universe will not have the same fate?" - Achiel
ANSWER:
"As I mentioned above, we knew the risks going into Early Access. We will not fold based on Early Access results, that is for sure. And we have had some games that we maintained for a while because we see possibilities. We see endless possibilities with Hyper Universe." - Ccomang
QUESTION:
"Will the founder's pack remain available post launch?"
ANSWER:
"Nyope. It wouldn't be a Founders Pack then." - Ccomang
QUESTION:
"Will there be an API to allow third party sites to fetch player data? This would required to set up ranking sites like lolking and such."
ANSWER:
"This is on our to-do list. But we haven't really been able to make a lot of progress since so much of our resources are currently on launch itself. But we will get there!" - Ccomang
QUESTION:
"How big is the Hyper Universe NA team? What about CwaveSoft, how many people are working there?"
ANSWER:
"Well, you know there is Raz, Songbird, Nimei, Darry, Disrespect, Predictable, and Scar
So including myself, game is 8. This is not including the designers, localization team, marketing, etc.--all the unsung heroes." - Ccomang
QUESTION:
"Will there be any experimental beta server in full release? Such as potential updates that need community input on whether they'll become part of the real game?" - MilkyMint
ANSWER:
"We have discussed the idea of PTS, yes. It would be great to invite you to try some of the changes we make, especially balance-related changes, before we bring it to the masses.
This is not within the launch scope, but we might still do it after." -Ccomang
QUESTION:
"Will more maps be considered for international release? While the current three are fine, at least things like three lanes with one jungle or captureable towers will certainly help" - MilkyMint
ANSWER:
"I can tell you that the devs are working on maps. I cannot tell you when we will get it, I honestly do not know at this time." -Ccomang
QUESTION:
"What's going on with Red Storm Ranger? We know he's getting changed due to copyright issues. Has there been any plans to reveal his current progress/status? Or will he actually be removed from the game entirely?" - Achiel
ANSWER:
"Oh so much progress on Red.
He is definitely coming." - Ccomang
QUESTION:
"So if full release is mid-January, will there be more "free weekends", more specifically, will there be marketed free weekends? " - MilkyMint
ANSWER:
"You betcha. 11/16 is the next one. Please tell your friends." - Ccomang
QUESTION:
"What are your plans to help Eu and Asia be able to get games on their servers?" - SnOw
ANSWER:
"We didn't really market the game when we went into Early Access. When we go f2p, we will be marketing to our EU and Asia friends.
So we should see those servers hopping." - Ccomang
QUESTION:
"will we be able have an option to switch to from ENG to KR Voices?" -NoticeMeSenpai
ANSWER:
"Oemgee.... We'd love this, right? This was probably our first request to the devs too.
We haven't been able to pull it off just yet due to technicalities like the client size, but we are still pushing. Not just Korean voice, more VOs!" -Ccomang
QUESTION:
"will we get a rank system in the game?" - Woogieman
ANSWER:
"Darry says, "do you like Christmas presents?"
he is also winking
at his screen." - Ccomang
QUESTION:
"Are there any plans for revamping the cube system? or at least allowing people like me to just buy the skins instead of having to grind for them? Please just take my money..." - OgienChomik
ANSWER:
"You will be able to buy skins in the shop when we officially open in January. But we are also looking at the cube rates because right now, it is brutal." - Ccomang
QUESTION:
"Will there be a co-op/single player campaign/mode based on the stories?" - ykcaj
ANSWER:
"That sounds brilliant. Can you write up a proposal and I can just send it to the devs?
Right now, that's not in the plans. But that is something we've never thought of. Well, at least on Nexon end. So if you'd like, feel free to start a community thread." - Ccomang
QUESTION:
"Will story points and Hyper levels have a purpose outside of bragging rights?" - Thorn Salchichon
ANSWER:
"Also not in the plans at the moment. But we are hoping to make the Hyper levels more relevant. Stories....not yet." - Ccomang
QUESTION:
"Will x-mas aisha skin come back on some sort of event for us this year ?" - Cake
ANSWER:
"You know us too well already.
YES." - Ccomang
QUESTION:
"Were you surprised by the reaction and backlash the game got due to the artwork changes? What about non-players and internet activists piling on the game to prove a point?" - Thorn Salchichon
ANSWER:
"I was really surprised, yes. More than anything else, I think I was surprised at the comments about how we made the devs change the artwork. We really cannot make them do anything they don't want to do, it's their game. What I got out of the whole thing though, is the change can be confusing because they're not consistent changes throughout. We are talking to devs about this still, so it won't be as confusing later. But no further changes are planned at the moment." - Ccomang
QUESTION:
"Do you like mangos?"
ANSWER:
"As much as DARRY likes them, yes.
DARRY likes dairy btw.
PUN" - Ccomang
QUESTION:
"Any plans for tournaments hosted by Nexon in the future?" - Life
ANSWER:
"Yes. I will be planning one likely around december / early january before launch.
I am also working on documents for prizing regarding community ran tournaments.
I will be heading up the majority of competitive grassroots efforts and feedback regarding competitive elements in the game." - Raziel
QUESTION:
"Do you guys plan on doing something like "Hyper highlights" where you cover the hypers skills, abilities, playstyle and build? What songbird does on twitch is good but this needs to be on the official youtube channel." - SnOw
ANSWER:
"Yes. We plan on making these. We do not have an ETA, but we want to do them." - Raziel
"To be even more transparant, this is something we are working on right now actually." - Predictable
QUESTION:
"Are there plans for a replay feature?" - Thorn Salchichon
ANSWER:
"We don't have anything planned at the moment, but if you want new features / changes in general, please drop us a line on forums. It's just better for more serious feedback regarding new features - we can get a general feel for things from Discord, but requested features are easier to ask for from the devs when we can make a full proposal with links." - Raziel
QUESTION:
"The game has too many gold sinks (hypers, hyper unique equipment, hyper equipment sets, crafting, dismantling, synthesizing, profile emblem slots) with a very limited source of gold, are we missing any sources of gold or any plans to reassess the gold system?" - Thorn Salchichon
ANSWER:
"To be quite frank and not repeat myself, the above answer applies to this question as well. What is limited? By how much? Why do you feel like there is too many gold sinks - isn't that the point of gold sinks?
Would love to hear more." - Raziel
QUESTION:
"I have no problem with a mid January release date, but is there any reason it was changed from late 2017?" - Ekram
ANSWER:
"Simply put - we needed more time. We really, really, REALLY wanted to release this year and it was a tough decision to make, but we believe it is the right one to get all our ducks in a row and really knock free to play release out of the ballpark." - Raziel
QUESTION:
"Any chance of renaming Louis to Shang (or at least having a hidden cookie achievement for him)? I and the entire Community that knows him keep tripping up and calling louis shang, it would be easier to just call him shang from now on." -OgienChomik
ANSWER:
"Personally, I am all for community secrets / cookies. However, big changes like renaming Louis to Shang is highly unlikely to happen because this changes all versions, and this is more of a Discord oriented community thing and doesn't affect the population at large. TL;DR: Secrets, easter eggs, etc - possibility in some small form." - Raziel
QUESTION:
"is there any plans for streamer support. For instance whenever someone is streaming a match it could be broadcasted to those on the same team "User X is streaming this match" or just small things like stuff for streamers to giveaway on stream?" - OgienChomik
ANSWER:
"Yes, we are currently looking into setting up a streaming program - I honestly can't say more than that at the moment, but it won't be ready until post launch or further if we execute on it. As for extra Twitch features, we do not have anything to announce at this time." - Raziel
That's all the questions that were answered for now! A huge thank you to everyone who came by, hung out with us, and asked us these questions!
~♥ Hyper Universe Team