Sharing My Thoughts/Feedback on Victoria's Nerfs
Crew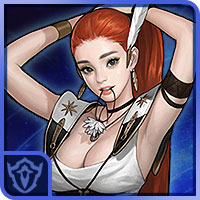 Hyper Universe Rep: 470
Posts: 16
Member
A copy and paste of my thoughts/feedback on Victoria's nerfs from the feedback section of the Official Hyper Universe Discord.
The reasoning used to nerf her is silly, to nerf someone based on win rate while there's only around 5 people I know that play her regularly and efficiency being too high when we've got Celine, Trakakhan, and Elendis?
She's been hit too hard in my opinion to the point where I still don't see many people use Sanguine against her as well. If you ask people right now what the point of Victoria would be at this point it's just her Divine Blessing and Redemtion (Which you cannot choose who to revive with and now has a 170 second cooldown minimum). Why use Victoria when you could have Pinky or Curse Eye with far more utility or Elendis for higher healing, damage, and traps?
She's my most loved, favorite, and fun hyper to play in this game and I wasn't able to play her much before. The nerfs to her have almost completely shut me down on any chances to play her now and demotivated me on making a guide on her for so long until recently.
I wish I screenshotted my recent matches list when I desided to just spam Victoria. My average winrate with her has plummeted, I've won around 3-4 matches and lost 9-11.
I'm not too good at this stuff and I know there's better people out there to do this sort of thing but I hope it's had some affect. Thank you for reading this and have a good day!