LumosNXA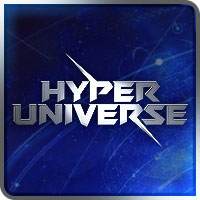 Hyper Universe Rep: 370
Posts: 59
Member, Administrator
Hey Hypers,
Welcome to 
patch 4.4
. You can read all about the changes coming to Hyper Universe below:
[h1]General Updates[/h1]
New Hyper
Dr. Schmidt has joined the fight for Hyper Universe.

Dr. Schmidt is a support Hyper that can provide permanent buffs to his teammates for the round.
Read more about Dr. Schmidt HERE.
Ranked
Rank Decay has been removed. 
Controller Feature
We have improved controllers once again. The cursor should automatically disappear while in game and pings can be made via the right joystick. 
[h1]Hyper Balance[/h1]
Elendis
Regular Attack
Attack and heal range reduced from 1100 units to 950 units.
[Skill] EMP Trap
Max charges reduced from 5 to 4
Trap duration reduced from 60 seconds to 35 seconds
[Skill] Salvation Protocol
Now affects all allies including Elendis
Reduced the overall healing.
Tooth and Tops
[Skill] Twice as Loud
Enemy movement speed reduced from 40% to 30%
Attack and Defense bonuses increased from 3% and 4% to 5%
Sapitelbub
[Skill] Princely Pummel
Regular attack increased from 22 to 25
[Skill] Horn Bash
Cooldown decreased from 12 seconds to 11 seconds
Migenhardt
[Skill] Feast of Blood
Health consumption upon activation decreased from 20% to 10% of current health
Turner
[Skill] Bear Trap
Max held traps increased from 3 to 4
Trap charge time increased from 35 seconds to 38 seconds
[h1]Equipment Balance[/h1]
Duality [Unique to Curse Eye]
Stats (Stage 4)
Cooldown reduction removed
Attack increased by 45 on final stage
Precision Rail Gun (Shared Equipment)
Exclusive Effect (Stage 4)
Health activation threshold decreased from 100% to 90%
[h1]Fixed Issues[/h1]
The announcement for "Enemy Engaged" will no longer play when Perseus attacks the jungle monsters in Delta Station.
In a Custom Match for Draft Pick, the match will now properly start even if the Host starts a match while there's players pending in queue.
Text Fixes
The text description for Jennifer's 'Hyper Crash' has been updated to confirm the skill can be interrupted.
The title for the story 'Tooth and Tops Level 2 Report' no longer has a spelling error.
Gulunba's skill, War Chief's Presence, will now correctly reference Attack instead of Defense Penetration in the tooltip.