LumosNXA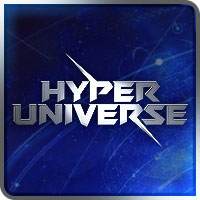 Hyper Universe Rep: 370
Posts: 59
Member, Administrator
Hey Hypers,
Welcome to
patch 4.2
. You can read all about the changes coming to Hyper Universe below:
General Updates
New Hyper
Lyn has joined the fight for Hyper Universe

Lyn is a Dark Elf Striker that uses speed and movement skills to take down her opponents. You can read more about her HERE
Ranked Mode
All Preseason rank points will be reset for the start of Season 1. You can read more about Season 1 HERE.
Dragon Refuge has been removed from Ranked Mode
Extra Pick/Ban text has been added in Hyper Select to avoid confusion during the initial phases of Ranked draft
Rank Points distribution for each Rank has been modified


Dev Note: When players lose a match, players will lose rank points. In the original ranking system, it was possible to fall into the negative Rank Points range. If a player had a losing streak during their placements or when in Bronze V tier, falling into the negative points range can cause them to derank back to "Unranked" until they are above 0 Rank Points again. To mitigate any negative rankings after placement, when a player completes their placements, they will receive a bonus of 2000 Rank Points. This will cause players to be start off higher in the Rankings until it naturalizes over time.
Hyper Level Progression System
Leveling Hypers will now grant the following rewards at certain levels
Level 2: 500 GP + 10 Story Points
Level 5: 10 Equipment Slot Samples for Hyper + 25 Story Points
Level 10: Hyper Mastery Skin + 50 Story Points
Note: If you've already achieved these levels you will receive your rewards upon next login. Sorry in advance if you have a lot of Hypers leveled up!
Match History
Players can now view the match history of any player in the game! You can check out this new feature HERE.

You must be logged in to view the page.
Hyper Roles
We now have a dedicated space to view the Hyper Role videos. You can check it out HERE.
Hyper Level Progression System
You can now earn bonus rewards just for reaching higher ranks with Hypers. Read out that HERE.
A new "Reports" tab has been added under Story so you can view your leveling progress.
Added in-game mouse function
Button to activate the in-game mouse function:

Turns ON when "left" or "right" of the game pad's right analogue stick is pressed
Turns OFF when you input the same command again

When the in-game function is OFF, the cursor is hidden when playing with a game pad
Hyper Balance
Hongdukei
[Skill] Strange Gourd
Movement speed penalty when enemy is trapped in gourd decreased from 50% to 30%
Sonya
[Skill] Low Kick
Movement Speed debuff increased from 10% to 15%
Movement Speed debuff time increased from 3 sec to 3.5 sec
Movement distance increased 50%
[Skill] Super Punch
Movement Speed debuff increased from 10% to 15%
Movement Speed debuff time increased from 3 sec to 3.5 sec
Cooldown decreased from 9 sec to 8 sec
[Skill] Accelerate
Ignores interference effects except for Grappled when Accelerate is active.
Trakakhan
[Skill] Thunderstorm
Valter
[Skill] Shield of Light
Max health restored when hit decreased from 5% to 3%
[Skill] Daybreak
Mana Cost increased from 25 to 30
No longer blinds enemies
Movement Speed reduction decreased from 2 sec to 1.5 sec
[Skill] Zealous Bulwark
Mana Cost increased from 25 to 30
[Skill] Avatar of Light
Cooldown decreased from 100 sec to 85 sec
Cooldown reduction unavailable except through Unique Equipment
Equipment Balance
Emperor's Scepter [Shared Equipment]
Exclusive Effect (Stage 4)
Decreased max requirement from 8 Hypers defeated to 6 Hypers defeated
Terminus Zero Hack [Shared Equipment]
Exclusive Effect (Stage 4)
Duration of beneficial effects decreased from 40% to 30%
MISC Changes
Added an "!" icon next to Coupon system so it stands out more when you have them
To improve the lag for players playing from the West coast of North America, additional battle servers were added to the West coast. Originally, all servers were only in East coast, but now there will be a 50/50 chance that a player can enter a server in either the West or East coast.
Traditional/Simplified Chinese will no longer be supported
Fixed Issues
Fixed an issue with Highway Helm not showing its cooldown when it's fully upgraded
Fixed an issue with Camilla's Bubble not properly displaying on Idol Yuna
"Unlock" has been changed to "Unlock Hyper" in game info to avoid confusion with the Hyper Skins
Updated AI Master Emblem to AI Master (Beginner) to avoid confusion
Fixed debug text on Witch Cain and Green Pitbull's Jack O' Lantern skin in Hyper Select window
Fixed a text issue where Hungering Edge is called Starving Soul in some instances
Fixed a text issue on Omni-Watch where the text "pushed" is written twice
Removed <Skin> tag in the description for Skin in Story
Fixed a text issue in Liu's Basic Info description
Fixed a text issue in Cain's Starting Match voice text
Corrected tooltip description for Yuna's Model Student skin in Hyper select for players who did not own the skin
Changed the "Take Care of It" story prerequisite to be more accurate
Fixed an issue where debug text would display while dead when using controllers
Fixed a spelling error with "The Influential" emblem
Fixed an issue where the AI did not upgrade equipment when a player leaves the match
Death info UI hotkey will now properly display on game pads
-Hyper Universe Team